The beautiful panorama of contemporary art
In the "Belvedere" Exhibition, Gallarate's MAGA Museum is presenting a new perspective of the permanent collection, with historical works and new acquisitions.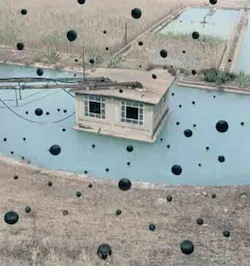 To enjoy a beautiful panorama and have a perspective on the world, it is not essential to climb to the top of a mountain. Of course, if we are talking about a real landscape, then it is essential, but if we are looking for a more intimate and spiritual viewpoint, it may be sufficient to visit a museum and look at paintings, sculptures and whatever else artistic creativity is able to produce. The "Belvedere" Exhibition at the MAGA Museum, in Gallarate, has been created with this very intention, namely to provide a new perspective on the permanent collection. This exhibition will contain important works of art that have returned to the museum after being exhibited, first, at the Triennale in Milan, and then, at Villa Reale in Monza. This revised arrangement of the works, which are no longer in chronological order, but placed according to themes, has been extended with new works from the Fontana Collection and from the Passarè Foundation.
With a targeted selection of works of art, the exhibition consists of landscapes, environments, scenarios and viewpoints that have always marked artists' quest for physical and imaginary places crossed by man. For this reason, a non-uniform itinerary has been created, featuring three cores that, like a journey, lead to different interpretations of the ideas of environment and of nature.
Spaces: paintings, sculptures and environmental installations portray a thought linked to the relationships that exist between us and the physical space in which we live and move.
Stories: photographs, drawings, postcards, books and videos tell visitors about a journey, a personal experience, snippets of a side view on the world.
Visions: large painted canvasses and monumental sculptures portray landscapes as places of the imagination, as venues, mythical places.
The museum's collection is being presented to visitors with a new arrangement, and has been extended with new works on loan from private individuals, or provided by artists, to demonstrate their constant quest and commitment to increasing the public collection.
For the first time in Gallarate, works from the Walter Fontana Collection are being exhibited, including sculptures of Pietro Consagra, Giacomo Manzù and Luciano Minguzzi, and important paintings by Ennio Morlotti, Mattia Moreni and Franco Rognoni, not to mention famous works by Lucio Fontana, Alberto Burri, Sebastian Matta and Tancredi, from the Passarè Foundation.
Moreover, works by Sergio Breviario and Chiara Camoni, which were purchased by AMACI (the Association of Italian Contemporary Art Museums) after they were shown at the MUSMA museum, in Matera, have now been lent to the MAGA, to give exposure to the latest generations of artists, exhibiting their works in the most important Italian museums.
Lastly, the great installation Grande Pianta Dafne by Alik Cavaliere, will be shown to the public once again in all its beauty, after it had remained for months in the halls destroyed by the fire. The work has been restored by the Alik Cavaliere Centre and by the Zanolini-Ravenna Restoration Centre, in Milan.
In parallel with the Belvedere Exhibition, the MAGA is also presenting The Project Room, a space for experimentation, open to contemporary artists that the museum is interested in. The program schedules two artists per month, who will present a significant project of their own latest research. The exhibition spaces of the Project Room become places in which to present or hatch projects, that could spread within the museum galleries, each in its own way. The first month, from 8 February to 2 March 2014, is featuring Ambra Pittoni, with her projects "La notte Salva" and "Partitura dispendiosa", and Riccardo Arena, with his video 25.765.
Belvedere. Landscapes and visions in the MAGA Collection
8 February – 4 March 2014
Inauguration: 8 February 2014, at 6 p.m.
Guided tours of the exhibition:
Sunday 9 February 2014, at 4.30 p.m.
Sunday 9 March 2014, from 10.30 a.m. to 5.30 p.m., in collaboration with students of the Liceo Artistico Frattini, in Varese.
Opening times:
Tuesday, Wednesday, Thursday, Friday: 9.30 a.m. – 12.30 p.m./2.30 p.m. – 6 p.m. Saturday, Sunday: 11 a.m. – 6.30 p.m.
Free admission.
For information: www.museomaga.it, Tel. 0331 706011
Leggi i commenti