The long wait is over
Five and a half months of waiting, of hope and tension, and finally the announcement that the two young women kidnapped in Syria, on 31 July, have been released.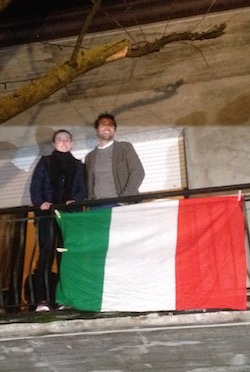 Greta and Vanessa are free. Their families had to wait five and a half months, each as best they could, sure that the crisis would end well. Antonella, Alessandro and Matteo had not had any news about their Greta since 31 July until New Year's Eve, when they saw her for 23 seconds, in a video. It was a very long time for the Ramelli Family, as it was also for the Marzullos. During this time, Gavirate and Brembate were joined, and both had a direct link to Rome. The telephone was always there, within reach, with the hope of hearing the only all-important telephone call, from the Ministry of Foreign Affairs, with the long-waited news of the release of the two young women.
In the meantime, despite the recommendations by the authorities to maintain a news blackout, Greta and Vanessa's family also had to face a steady stream of news that followed any rumours about the conditions of the young women. They were kidnapped in Syria on the night of 31 July. Today, the long ordeal is over.
During these months, the kitchen in the house in Gavirate smelled continuously of coffee, which was always ready for the numerous friends who came to exchange a few words with the Ramellis. There was concern, but also a lot of hope. Antonella has no doubts about how her daughter will react on returning from this experience in Syria. "She won't care about all the nasty things that have been said in this days. She's a confident and determined person. She has always paid a lot of attention to those at the bottom, to the weakest. When she was a child, she would immediately take the side of those in difficulty, starting with the people close to her, like her classmates and friends."
This is confirmed by Chantal Veenboer, 21, one of Greta Ramelli's friends who went with her to Zambia, in 2011, on Greta's first humanitarian trip.
"We were classmates at the Rosetum School, in Besozzo," she said. "My mother's involved in an NGO that builds hospitals and has a project in Chupata, in Zambia, and when we turned 18, we decided to spend the summer there, volunteering at some nutrition centres for people with AIDS. That was in 2011. Greta was very determined, and during that trip, she told me she wanted to study medicine, and above all, to work with Doctors Without Borders. She has a special strength and the ability to be by people's side. When I had some health problems due to some eating disorders, she stayed by my side every day as no one had done before. She's one of the most determined people I know, also because she strongly believes in taking care of others. I didn't know much about the project for Syria, but I know her personality. She's very brave and isn't scared of anything. She always wanted to see things from within, and that's why the trip to Zambia and the one to Calcutta weren't enough for her."
Our newspaper had taken a clear position on Greta and Vanessa's story, respecting the news blackout requested by the Ministry of Foreign Affairs.
Greta's mother, Antonella, says she is proud of her daughter. "Ours is a normal family that lives and works like so many. On that 31 July, everything changed, and now we're here, waiting confidently for Greta. I always thought of her and I spoke a lot about her with her friends. That helped me to fill those moments when the anxiety rose. Alessandro, my husband, found help in his faith. Greta's brother, Matteo, is a strong lad. He's studying and establishes relationships to learn more and more about international dynamics. Greta has always been special, thoughtful about people, and even when she went to middle school, she would help those in need. As she got older, this commitment became more important to her. When she was 18, she set off for Africa, and subsequently for India, then she began to work as a volunteer for the Red Cross. For one year, her attention had shifted to Syria. She couldn't bear the fact that no one was doing anything to help the children and victims of the war. This then led to the project with Vanessa. To anyone that writes that they should have done voluntary work in Italy, I say what Greta said to me when I said the same to her. "You're right Mum, there are also needy people in Italy, but I already do voluntary work in Italy, and anyway, as there are people in need also here, be my guest, there's plenty of work for everyone." She always had the right answer for everybody. We look forward to embracing her again."
It is now only a matter of hours, and at last, that embrace will come.
Leggi i commenti