Unanimous "No" to pathological gambling; regional law passes
Vote on Tuesday morning, in the regional council. Socio-medical actions, as well as prevention, compulsory training for arcade managers, and restrictions on distances of amusement arcades.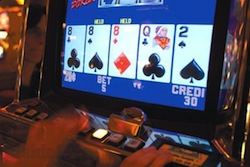 Training, prevention, but also minimum distances from "delicate" places, and socio-medical actions. These are the contents of the regional law that tackles the problem of pathological gambling, which was passed unanimously on Tuesday by the Lombardy Regional Council. The procedure that led up to this point, began during the previous legislature, out of a bipartisan action. In the new legislature, it was decided to hand over the work to the Production Activities Committee; a workgroup developed a bill, from the various proposals, and today, there was the final vote.
"The law has many elements that are new, to oppose, prevent and cure the addiction to gambling," said Viviana Beccalossi, Councillor for Territory, Urban Planning and Defence. "This measure is something the council wanted very much, and it got the unanimous consent of all political groups. We wanted to send a strong signal to the people and to the Country, by tackling one of today's new and real social emergencies."
Roberto Maroni, the President of the Region, was also satisfied. "Once more, Lombardy is the first to tackle a complicated problem, like pathological gambling. I hope that Parliament will now follow our example, and pass a law to combat a phenomenon that has disastrous social consequences."
Among the key points of the law, there are also socio-medical actions on the topic of problem gambling, interventions on prevention, compulsory training for arcade managers, restrictions on the distances of amusement arcades from schools, churches, meeting places, and even from "We buy gold" shops, as well as meticulous security checks. On the subject of training and prevention, it was decided to involve young people. A competition is starting soon for ideas for schools in Lombardy to produce a regional "slot machine-free" logo. This logo can be put up by shopkeepers who make a strong and brave decision not to have slot machines in their businesses.
Satisfaction was expressed by all political groups, starting with the Council President, Raffaele Cattaneo. "It's an important signal, because Lombardy Regional Council is one of the first to apply initial regulations to a genuine social evil that puts a lot of families in Lombardy in difficulty. This is a concrete sign that the council can work together, and wants to put the interests of the people of Lombardy above any political differences."
In the opinion of Luca Marsico, of the centre-right PDL party, this is "a strong and extremely significant signal, today, with the approval of the bill, to fight problem and pathological gambling. Lombardy Region is in the frontline, also in fighting and regulating a phenomenon like problem gambling, which has now become a social evil, also among young gamblers, with percentages, in our region, as high as 18% for 11- to 18-year-olds."
Some controversy was raised in the Chamber concerning the role of Government. "While the State takes no interest in this serious problem and tries to facilitate access to gambling in every way, in order not to forego the income, which they consider too important," said Francesca Brianza of the Northern League, "Lombardy Region, before any other, has adopted a brave law and sent a strong signal against this growing phenomenon, which is breaking up our society. Lombardy Region wants to set a national example, and we hope that the government of Enrico Letta will also do something soon on this matter."
The "Maroni President" group was of the same opinion. Its leader, Stefano Bruno Galli, said, "Once again, Lombardy has acted before the State of Rome. In fact, the Lombardy Council has moved faster than Parliament in Rome, even in the fight against pathological gambling. The approval of this law, however, is not only a record for our region, but also a sign of how serious we are, and a demonstration of the fact that if this council works, while ignoring the ideologies, it can achieve great things. This is what the great people of Lombardy deserve."
Elisabetta Fatuzzo, of the Pensioners' Party, said, "Problem gambling is a phenomenon that increasingly affects senior citizens and pensioners, particularly at this time of crisis; so, it has to be fought in every way. With this law, the Region is using all spaces available, systematically, in a sector that is clearly a duty of the State, demonstrating that we care about the health of our people."
The whole of the opposition also voted in favour of the law. On several occasions, the opposition were the first to encourage debate and action. The group leader of the centre-left PD party, Alessandro Alfieri said, "Lombardy is the Italian region that has the highest number of pathological gamblers. The PD were the first to put forward the bill to fight pathological gambling, then, during this legislature, it was possible to create common ground and, for the good of the people, to produce this bill, which is undoubtedly a step forward in the fight against problem gambling, although it still isn't enough. We need to add strong a socio-cultural component to our bill, and what we've done needs to be accepted and developed nationwide."
Michele Busi, of the "Patto Civico con Ambrosoli" group said, "This is an important law that regards many authorities, and interests worth billions of euros. In that sense, it's a strong signal also in the fight against organised crime. It's been clearly shown that criminals often infiltrate the legal circuit of slot machines, turning these halls into places in which to launder dirty money, evade taxes evasion and do loansharking. Regulating this sector means acting effectively to combat this phenomenon, particularly with Article 5, which gives Mayors the job of planning actions by the forces of law and order, and actions of prevention and information, which are expressively provided for by the approved law."
Leggi i commenti